2018 : GETTING READY (PART 2)
The more we live in balance and respect nature and ourselves, the more likely we are to be in the right place at the right time, all the time - Joshua Rosenthal, MScEd
We always talk about having the right timing and being in the right place at the right time for opportunities to come by right? Little do we know, these opportunities are the results of what we have manifested!
Since you already know what you desire in life, now is the time to set our intentions and set some goals by looking at areas in our life that are lacking in happiness.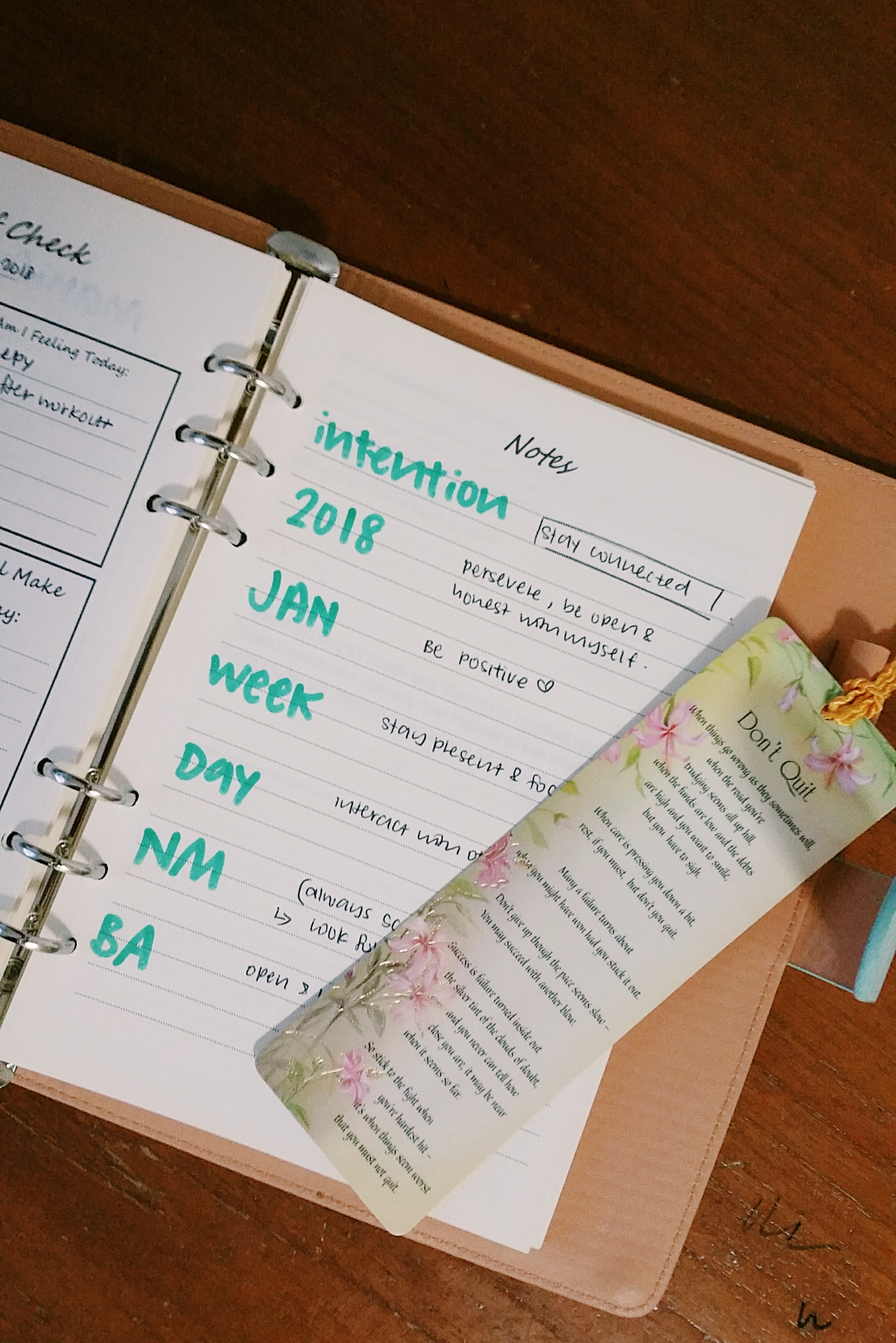 The whole idea of having an intent is to have an aim, a purpose, an objective, a goal, a target. This is especially important when there are so many things in life that capture our attention, we sometimes forget what our true purpose is.
Your intention can just be a phrase, a word, or a sentence. Mine for this year and this month in particular is to STAY CONNECTED. My intention is connected throughout all the areas of my life, including career, relationships, spirituality, my self acceptance, food etc. I have chosen this intention before last year and have opted to do so again. Make sure your intention spans across all these areas of importance, it is more likely that you will stay true to what you have aimed for when there is a link between sectors.
For example, i stay connected to my nutrition through thorough preparation and mindful generation of recipes. I stay connected to my fiance by having open and honest communication over 10,000 miles. I am choosing to stay connected to my career, through interaction with my peers and especially with my clients.
Once your intentions are set, it is time to zoom into some focused energy!
These primary sectors are:
Creativity
Finances
Career
Education
Health
Physical Activity
Home Cooking
Home Environment
Relationships
Social Life
Joy
Spirituality
How do you use this tool?
In each sector, place a dot to designate your satisfaction in that area. The closer the dot is towards the centre of the circle, the more dissatisfied you are with it. Thus, the more dots you have on the outer lines towards the periphery, the more balance you have. I have used this circle multiple times and the 3 sections I will work on this month would be Spirituality, Joy and Career.
Within the 3 sections, write down some bullet points on what you wish to do to increase satisfaction in this area. Perhaps you need to be more pro-active in your job, or maybe you need to forgive someone in order to obtain joy, or you need time management in order to have a social life outside of work. Do this every month and watch your circle get bigger! Of course, there are ups and downs, and your circle might never be fully rounded and balanced in all areas; but this is amazing to watch your own progress.
Want this tool for yourself and friends and family?
Fill in the form below with your name, email address and let me know WHY you want to use this tool specifically for yourself! If you need additional help, drop me an email or contact me directly.
I would love to hear about your efforts at envisioning your life and creating intentions for the year! Feel free to share your experience below in the comment box :)
"You yourself, as much as anybody in the entire universe, deserve your love and affection." -Buddha